Closing
JRTwine Software, LLC will cease operations on or shortly after April 15th, 2016 due to unexpected relocation. Purchasing links have been disabled and the support site will go offline after April 15th. We thank all of our past customers for supporting us during the past 14 years.
IBWedge
IBWedge - The IBWedge is a software-based keyboard wedge for iButton devices. Like a hardware keyboard wedge, it can translate the ROM ID information on the iButton into keystrokes. But that is just the beginning!
IBWedge gives you the functionality of an external, bulky hardware wedge, but unlike most hardware keyboard wedges, IBWedge can translate the ROM ID data into a variety of different formats, making iButtons more useful than just for the numbers shown on their faces. And it does so at a fraction of the price of hardware wedges!
For example, IBWedge can not only generate keystrokes for an iButton device's ROM ID, but can use that ROM ID to generate a 16 or 32 character password from it, or an MD5 or SHA-1 cryptographic hash from it, allowing you to have more secure passwords or identification strings.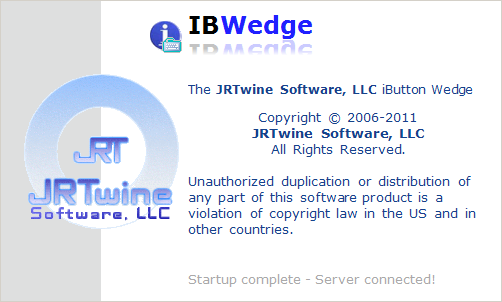 IBWedge Agent Interface
About IBWedge
IBWedge normally runs as a Windows Service which has no GUI, so users usually never even know it is there. It also manages its own configuration file, so once it is configured and deployed, you can forget about it.
It uses a companion application, called the IBWedge Sender, which runs int he context of the logged in user, allowing the simulated keystrokes to interact with running applications.
For development with IBWedge, we include the IBWedge Agent application. The Agent is used to configure and test the IBWedge service, and you would normally use it to get the behavior of IBWedge the way you want it, and then set the configuration. The Agent only required for development.
Many different Data Formats are included with IBWedge, and custom ones can be created. For example, if you need to transform an iButton's ROM ID into a one of 200 prime numbers using a special algorithm, we can implement that for you, or you can use our Data Format API to implement it youself in .NET.
Demo versions of the product are available by contacting us at custserv@jrtwine.com. These demo versions may have time and/or functional limitations.
Pricing
N/A
More Information