Closing
JRTwine Software, LLC will cease operations on or shortly after April 15th, 2016 due to unexpected relocation. Purchasing links have been disabled and the support site will go offline after April 15th. We thank all of our past customers for supporting us during the past 14 years.
About the IBWedge Agent
The IBWedge Agent is a user-side application that is used to control and configure the IBWedge service. It can be started on-demand, or can launch as part of startup processing when you login.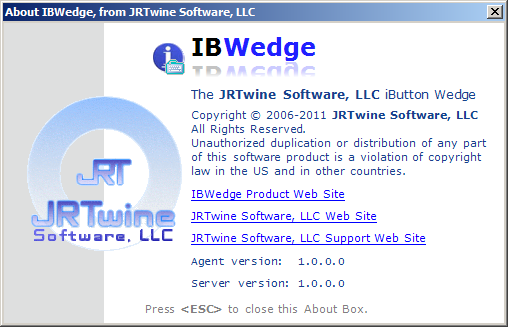 IBWedge Agent About Box
The IBWedge Agent is not normally used by end-users when you are bundling IBWedge with your product, as it is only used for configuration and testing of the IBWedge service. Commercial licenses for IBWedge include the Agent application, but do not include rights to redistribute it. You are only allowed to use it for development and test purposes and are not allowed to ship it to your end-users.
The IBWedge Agent allows you to configure the following functionality of the system: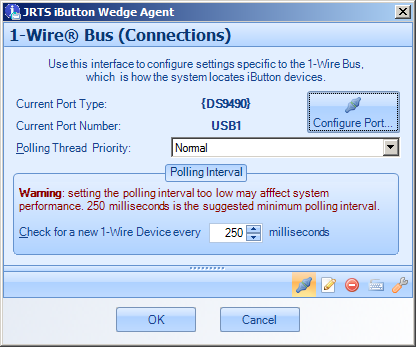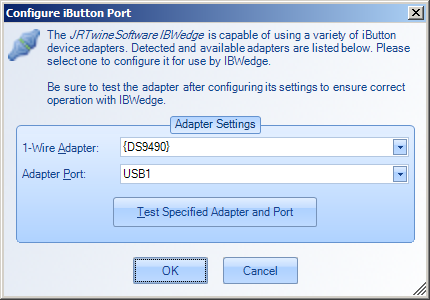 IBWedge Agent Connections/Port Configuration
The above interface is used to configure the which iButton device reader is used, the polling rate, and the priority of the polling thread used to detect new iButton devices.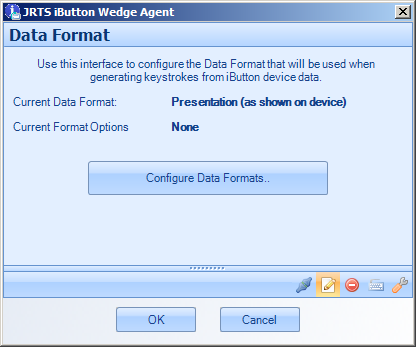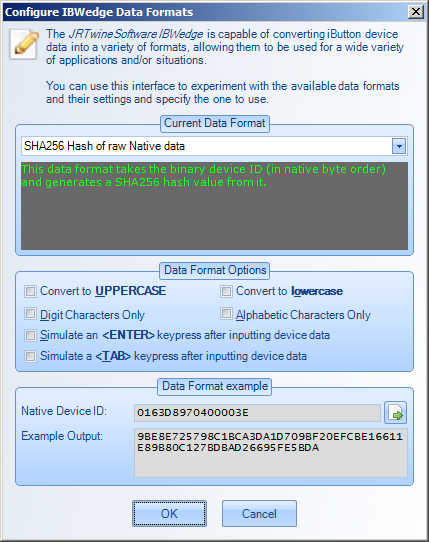 IBWedge Agent - Data Formats Configuration
The above interfaces are used to view and configure the current Data Format settings. In the above image, an example is shown of how an iButton's ROM ID is converted to a SHA-256 hash value. This produces a much longer string that could be used as a more complex password, for example.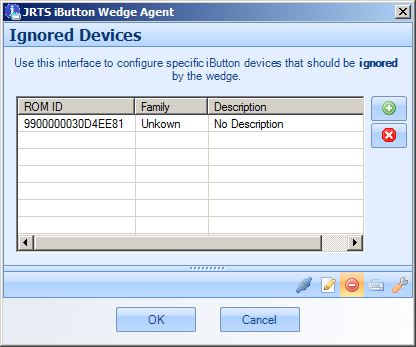 IBWedge Agent Ignored Devices Configuration
IBWedge can be configured to ignore certain iButton ROM IDs (device IDs). This allows you to exclude specific devices, or even families of devices (device family support is not fully implemented yet). A good use for this feature is to ignore the ROM IDs of adapters themselves. For example, a USB-based adapter is an iButton device itself, and has its own ROM ID. Normally, when you connect it, it will be detected as a regular iButton device and might generate keyboard data. By ignoring its ROM ID, this can be prevented.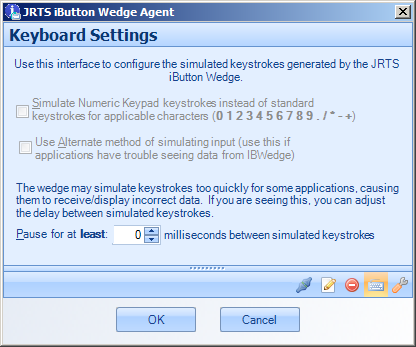 IBWedge Agent - Keyboard Settings Configuration
The IBWedge can be configured to slow down the generated keystrokes. This can be necessary with certain applications that cannot handle the simulated keyboard events sent by IBWedge.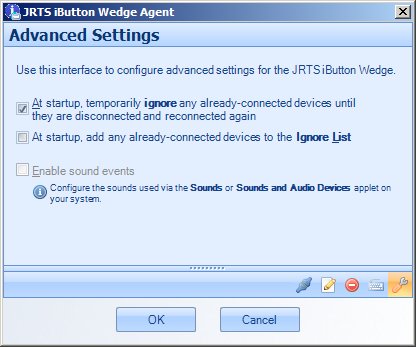 IBWedge Agent - Advanced Settings Configuration
The advanced settings interface allows you to configure the behavior of IBWedge with regard to how it treats devices that are already connected.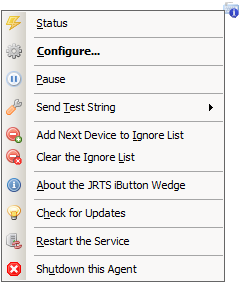 IBWedge Agent Context Menu
Lastly, the Agent's context menu gives you access to all functionality of the Agent and the IBWedge service itself, and also gives you the ability to test the ability of other applications to receive keystrokes from the IBWedge service.