Welcome to JRTwine Software!
Closing
JRTwine Software, LLC will cease operations on or shortly after April 15th, 2016 due to unexpected relocation. Purchasing links have been disabled and the support site will go offline after April 15th. We thank all of our past customers for supporting us during the past 14 years.
Latest Updates!

Our first WorthWare product, Shareaza Cleaner, has been released and is ready for you to try it out!

We are implementing a complete redesign of our internal VOIP-based phone system. While this is underway, our external phone number may suffer connection and setup issues. Be sure to email if necessary.

A new web-based support site has been released at http://support.jrtwine.com that replaces the older one and gives things a fresh new look and a better user experience!

A new version of Check Favorites is in the works and may be released soon. This new version adds additional features and increased performance!

More updates to IBWedge are being made, as well as renewed development efforts with some of our released and in-development projects.
Stay tuned for more info!

The latest version of Key Composer has been released. It includes a new implementation and support for custom symbols/strings. A feature that allows creation of keyboard-based macros is also in development.
Having Trouble?

Having trouble with a product created by JRTwine Software? Go to the support web site at http://support.jrtwine.com for help.
Please be advised: JRTwine Software, LLC will cease trading/operations on or shortly after April 15, 2016.
Remember that web/email-based customer support is always available for free via the trouble ticket system on the support web site. However, we regret to say that at this time, we cannot provide other means of support to our retail customers.
Exceptions are made under extreme situations for paid license holders, where phone or I.M./chat support may be available.
Extended support options are also available to contract customers and those that purchase a support plan.
Giving Back!

One of the software components created by JRTwine Software is an in-game console that can be used by XNA projects to provide unprecedented functionality to their applications. Further information is available on the CodePlex site where the component has been released:
http://xnacc.codeplex.com.
Brief Info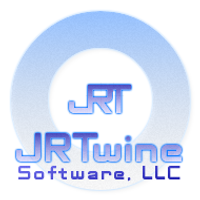 JRTwine Software is a small, member-owned Limited Liability Company that specializes in software development in a variety of languages and platforms. We create and sell retail products as well as provide contracting and consulting work to other companies. We are registered with D&B and the US Government CCR.