Closing
JRTwine Software, LLC will cease operations on or shortly after April 15th, 2016 due to unexpected relocation. Purchasing links have been disabled and the support site will go offline after April 15th. We thank all of our past customers for supporting us during the past 14 years.
Shrareaza Cleaner
Shareaza Cleaner - an easy and automatic way to selectively clean your Shareaza search and filter history, helping ensure what you search for and filter on is kept secret.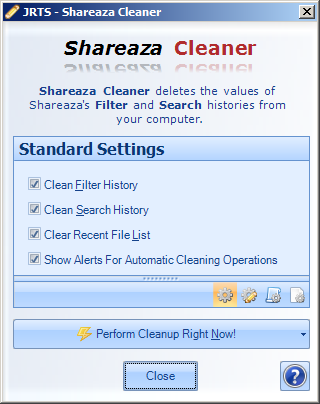 Shareaza Cleaner Interface
Shareaza Cleaner is the reimplementation of an older command line utility we kicked around several years ago. Its purpose is to selectively clean unwanted values from your Search and Filter histories, as opposed to deleting all of it, which may look like you are trying to hide something.
Why selective cleaning? Because if someone knows that you use Shareaza, but then when they examine your system, they find all stored search values missing, it looks like you are trying to hide something. With Shareaza Cleaner, undesired Search and Filter values are surgically removed from the registry, and the remaining values are automatically renumbered and replaced so nothing looks suspicious.
Values to be cleaned are specified using Regular Expressions, and the application includes features such as a wizard and a way to automatically build expressions to make working with Regular Expressions easy. These features are covered in the documentation, which is available below.
The installer can be donwloaded here, and the cost is free! Yep, free! This is our first WorthWare product, so feel free to use it and enjoy!
Please provide feedback if you love, hate, or just have suggestions about the product. We plan to grow this product based on the feedback of its users, so have at it!
Documentation
You can view the CHM-based documentation (help) for this product by clicking here, and web-based docs here. Note that if you download the CHM file, you may have to raise its properties window and select "Unblock" in order to be able to view it correctly.
How It Works
When the application is launched, it creates an icon in the tray area of your Task Bar, which is what contains your Start Menu button. It normally cleans all of the search and filter values from your computer every two hours.
This behavior, and other settings, can b changed via the configuration interface. It can raise its interface by double-clicking on the icon or right-clicking on the icon to raise the menu and select the configuarion interface.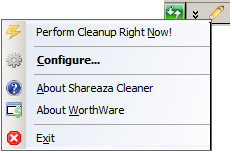 Key Composer Tray Icon
System Requirements
Key Composer supports XP or higher, including server versions of Windows. IE 5.0 or greater should be installed as well. Version 4.0 of the .NET framework is required, and a web-based installer from Microsoft can be downloaded here.
Disclaimer
This product is not affiliated nor currently endorsed by Sharaza, or the Sharaza developers in any way shape or form! This is an independent product by a non-related company!