Closing
JRTwine Software, LLC will cease operations on or shortly after April 15th, 2016 due to unexpected relocation. Purchasing links have been disabled and the support site will go offline after April 15th. We thank all of our past customers for supporting us during the past 14 years.
Delete FXP Files Classic
New reduced pricing in effect!
Delete FXP Files™: "undeletable" files and directories deleted!
New release now available! This new release adds more robust deletion performance, improved Process Finder operation, movement of Process Finder into the Professional Edition level and more!
Note: With the release of Delete FXP Files 2009, new lower prices are available for the Classic version of the product, now called Delete FXP Files Classic. This latest release of the Classic version includes some bug fixes, upgraded graphics, and adds the ability to Rename files in the Professional (and higher) Registration Levels!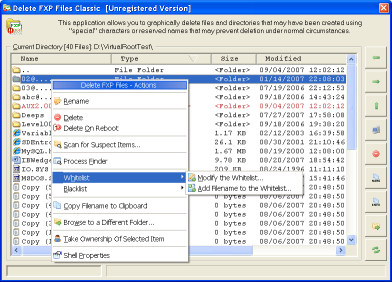 Delete FXP Files Screenshot - click to enlarge
Delete FXP Files is an application that provides you with a GUI that you can use to easily delete stubborn directories and filenames. Many times, these kinds of files/directories are the direct result of getting "tagged", which can happen if your system is exposed to the Internet. This usually results in various folders and/or files being created that contain reserved identifiers which confuse Windows Explorer, making it difficult to delete them.
These kinds of filenames can also happen when your system is connected to other operating systems, such as Linux. These other operating systems may have different restrictions and rules on what characters or identifiers are or are not allowed to be used in a file or directory name.
Delete FXP Files is a must have for FTP servers that require anonymous upload access! This prevents malicious users from creating hard-to-navigate directory trees and using your storage and network bandwidth for their (illegal) content!
FTP servers get tagged all the time - for an idea of the scope of the problem,, try Googling for "FTP scanned tagged COM1|COM2|COM3 LPT1|LPT2|LPT3" and see how many hits you get. Having yourservers tagged means that someone is likely using/abusing your storage space and bandwidth! If you do regular backups and/or archiving, this can increase the cost of those as well!!
The Delete FXP Files application correctly handles situations like these, allowing you to easily remove those directories and files. It has been tested against various naming techniques, including those listed in the "The End Of Deleters" how-to manual, by [Piratez]. The techniques shown in the manual were no match for Delete FXP Files!
Files that have suspect names, such as ones that use reserved system device names, are drawn in Red. Future versions of the application can be extended to recognize other filenames and mark them as Suspect, and will implement a whitelist.
This application is capable of crossing network shares and deleting files remotely (if you have the permissions to do so). This allows the application to be used from a centralized "command console."
Notes
Launching the application with a command line parameter of /testbaddir will cause the creation (or at least the attempted creation) of some directories and subdirectories in the root of the "C" drive using reserved identifiers, so you can see how these kinds of directories are flagged as Suspect, and how they tend to be difficult to delete using normal means (try deleting them using Explorer and/or the Command Prompt). The directories created are:
"C:\ NUL"
"C:\NUL.1 "
"C:\NUL.11 <255> "
"C:\NUL.1\\<TAB>"
"C:\NUL.1\ NUL"
"C:\AUX"
"C:\AUX\NUL"
"C:\AUX\ T@GGed""
Do NOT use this feature unless you plan to register the product
or have some other means of deleting the created directories!!!
System Requirements
Delete FXP Files requires Windows NT4.0/2000/XP. IE 5.0 or greater should be installed as well. Certain features, such as Process Finder, may not work correctly in Vista or Windows 7 and above due to security changes and UAC.
If you plan to use this product with those operating systems, please verify its functionality before purchasing a license.
Downloading
The installer (contained in a 905KB ZIP file) for Delete FXP Files can be downloaded here, or use this link to down the installer executable if you cannot unpack the ZIP archive.
License Types (contact us directly regarding license upgrade pricing)
License/Functionality
Delete
Recursive Delete
Shell Extension
Network Access
Rename
Process Finder
Scan
Whitelist
Blacklist
F

ree Edition

Yes
No
No
No
No
No
No
No
No
Personal Edition
Yes
Yes
Yes
No
No
No
No
No
No
Professional Edition
Yes
Yes
Yes
Yes
Yes
Yes
No
No
No
Server Edition
Yes
Yes
Yes
Yes
Yes
Yes
Yes
Yes
Yes
Enterprise Edition
(with site license)
Yes
Yes
Yes
Yes
Yes
Yes
Yes
Yes
Yes
The Enterprise Edition license grants a site license that allows for unlimited copies of the product to be used in a single physical campus. If this is confusing, contact us before purchasing licenses to make sure that you will have the correct license structure. Enterprise Editions of the product will be custom built for each customer, will include the name of the customer in the product, and will not require registration for each instance used (please allow up to ten business days for this).
License Restrictions
Normal licenses for Delete FXP Files are to be used on a single computer system only. The licenses for Personal, and Professional editions are not floating licenses - they do not allow you to register the product on one system only to later uninstall it, install on a new system and register it again except for situations where you are restoring or upgrading the same system.
This means that if you are an I.T. professional/contractor, you are not allowed to purchase a single registration key for Personal Edition, use it as a tool to clean client systems by installing and registering, and the uninstalling/unregistering the product on those system as necessary. You can help yourself and JRTwine Software by becoming a reseller/affiliate and getting your clients to purchase their own licenses.
But take heart - there is one exception... purchasing a registration key for Server Edition entitles you to a Contractor's License where you are allowed to install, register, use and then uninstall the product in the course of performing services for a client. However, the Contractor's License does not allow two or more machines to have registered versions of the product installed at the same time. Consider its use like a single copy of a book - you can carry it with you and use it whenever and wherever you need to, but it cannot be read in two places at the same time.
Please support small business by obeying the license restrictions
and using your license correctly.
Limitations of the Demo/Trial Version
The Free Edition has the basic deletion capability, but is limited to 5 deletion operations and will not delete folders.
Purchasing
N/A