Closing
JRTwine Software, LLC will cease operations on or shortly after April 15th, 2016 due to unexpected relocation. Purchasing links have been disabled and the support site will go offline after April 15th. We thank all of our past customers for supporting us during the past 14 years.
Check Favorites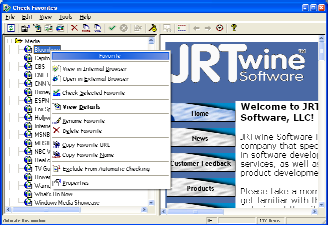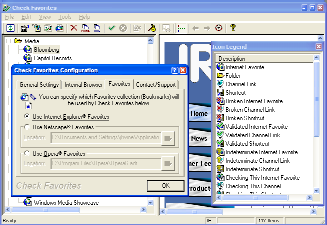 Check Favorites Screenshots. Click to enlarge...

Check Favorites is a full-featured solution for maintaining all of the Internet-based links in your Favorites list (bookmarks). Check Favorites can check multiple links simultaneously and can optionally remove all of the broken links for you. Check Favorites also supports the ability to export your Favorites in a variety of formats, as well as the ability to extract, check, and export the links contained on any HTML page on your system, or accessible via the Internet (thus acting like a kind of link checker and ripper).
Checking the links on/from a page on the Internet can be accomplished using Internet Explorer®, through the use of a custom Protocol Handler. For example, if you are viewing a page in Internet Explorer that contains lots of links, and you would like to be able to verify, rip, or export them, simply go to the Address Bar, and place "checkfavs:" in front of the URL. It is that simple! (Note that only static content/pages will be downloaded correctly by Check Favorites.)
Key Benefits
Checks all of IE's Internet-based favorites1
Can check up to 32 links at once2
Can identify links that require authentication
Can identify redirected links
Can "rip" and/or check links that are on a web page
Can automatically delete all broken favorites2
Updates for Version 1.7
Better ripping and checking of links on web pages or in files thanks to new "Drag-N-Check"2 functionality
A detailed tool-tip shows information about a link without having to raise the Details dialog
Copy functionality added to the Detailed Report
Ability to grab links from arbitrary URLs or files without having to restart the application
Updates For Version 1.6
Enable support for execution on older NT 4.0 systems that did not install the Active Desktop Update back in the IE 4.0 days
New Printable, Exportable Detailed Report
1 The evaluation version will only check up to 10 links

2 Functionality not available in the Evaluation version
The product information sheet for Check Favorites can be downloaded Here (in PDF format).
Click Here to download the latest help (CHM) file for Check Favorites 1.6. (If the help file does not display correctly, raise its Properties using Explorer and Unblock it.)
Click Here to download a ZIP file containing the latest installer for Check Favorites. Note: This version of the installer package requires Microsoft Installer® (MSI) 2.0 or higher.
Ordering
N/A
The First!
The original Bookmark/Favorites checker.
We are currently developing a newer version of Check Favorites! For a sneak peak, click here.