<![if !vml]>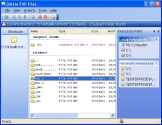 <![endif]>
Contact: James R. Twine
Tel: 877-697-6704 X:203

Cell: 603-858-1512

Email: jtwine(@)jrtwine.com

FOR IMMEDIATE RELEASE
September 3, 2007
JRTwine Software, LLC announces the release of Delete FXP Files 2007
Latest version of the product adds functionality and increases ease-of-use.
(Goffstown, NH, USA) – After more than a year in development, the latest version of the Delete FXP Files product, Delete FXP Files 2007, has been released. Delete FXP Files is a popular utility program that is used for handling files and folders that are "undeletable" using normal system utilities. This updated version of the product includes much of what customers have been asking for – a redesigned, completely customizable GUI, new features, and improvements to existing ones.
This release of the product enhances the Scan and Process Finder features by improving their speed and robustness. These enhancements make it even easier for customers to track down rogue applications on their systems or clean up the damage after an attack.
New features, such as the ability to rename items, schedule items for rename-on-reboot, view the contents of files, and the ability to manipulate pending delete-on-reboot and rename-on-reboot operations, round out the new functionality of the product.
A new license structure is also in place that includes a revamped pricing model. This new pricing model should make it easier for customers to purchase an appropriate license for the functionality they require. Customers that have to clean up a compromised FTP server can opt for the Server Edition license, while everyday users that are stuck with one or two files they cannot get rid of can purchase the QuickFix Edition license at a much lower price.
JRTwine Software, LLC can be found on the web at http://www.jrtwine.com.
Delete FXP Files 2007 product information can be found on the web at http://www.deletefxpfiles.com.
###
If you would like additional information or to request a license key so that you can try out the full functionality of the product, please contact James R. Twine 877-697-6704 X:203 or email James at jtwine(@)jrtwine.com.